Welcome to
Cheese Art 2006
CoRFiLaC, Consorzio Ricerca Filiera Lattiero-Casearia, from June 27th to July 2nd celebrates the fifth edition of Cheese Art, that will take place in the historical Castle of Donnafugata, in Ragusa. Cheese Art is a Biennial Event of Culture and Science dedicated to Traditional Dairy products of Mediterranean Countries.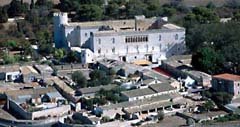 The main purpose of this event is to valorize the Production System and the Dairy and Agricultural Food Products of Mediterranean Countries.
This valorization takes into consideration not only the products, but also the man that produces them.
It is the man who harmonizes and dominates the natural biodiversity factors, which intrinsically are part of the territory. That is why we speak of Revival of the Territory through Revival of the Taste.
Cheese Art wants to be one of the most important destination for those travelers who want to know the real Sicily, land of culture that manufactures products originating from a synthesis of experience and passion; products that excite the consumers for their uniqueness, aroma, flavor and colors, all of which are expression of a sunny and strong land. The best of the Sicilian and Mediterranean productions will be on display at Cheese Art 2006 for buyers, national and international operators, press, TV networks, researchers and travelers.
From testimonies and reflections that have characterized the history of Cheese Art, CoRFiLaC has decided to contribute to the defense of the rural culture, the traditions of lands often abandoned by young people in search of a more alluring life, frequently devoid of content. After a series of researches and analyses, CoRFiLaC has decided that the main protagonists of Cheese Art 2006 will be "Women, Young and Elders."

In details:
Women's Role in the Development of Emerging Countries:
"Wisdom"
Young People, Consumers of the Th ird Millennium:
"Hope"
Th e Elders, Conscious Consumers of Today:
"Experience"
INFORMATION
Organizational Secretary
tel. +39.0932.660.436/413
fax +39.0932.660.436
e.mail info@cheeseart.com
Press Office
tel. +39.0932.660.414/425
fax +39.0932.660.448
e.mail press@cheeseart.com
Scientific Secretary
tel. +39.0932.660.418
fax +39.0932.660.448
e.mail carpino@corfilac.it
CoRFiLaC and its philosophy
Located in Ragusa and founded in 1996, the Consorzio di Ricerca Filiera Lattiero-Casearia, "CoRFiLaC," is a company with public law personality, of the Sicilian Region. The Consortium was established with the goal of bringing forth the "Iblean project" from a "dream": To create a link between the world of research and the world of production and consumers.
The research strategy is to develop experimental protocols that study the specific quality of traditional production systems that are deeply rooted in the territory. It is through those natural processes that man, farmer, cheese-maker must rule in order to obtain excellent cheeses, which CoRFiLaC defi nes as"Formaggi d'Autore."
WHERE TO LODGE IN RAGUSA AND ITS PROVINCE
HOTEL and RESIDENCE
B&B and Holiday Houses
FARMS
THE MAP OF THE PROVINCE OF RAGUSA (click on the map)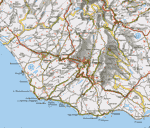 TOURIST INFORMATIONS
Photos
CHEESE ART 2006
:: the program ::
Scientific Conferences and Seminars will be dedicated to the Main Cheese Art topics, "Women, Young and Elders," in order to investigate the importance of the three figures, as protagonists of the recovery, qualification and valorization of historical productions in rural Mediterranean World and Emerging Countries.
Cheese Art constitutes a great opportunity to work with intellectual authorities interested in the same themes, to define a shared strategy for permanent projects that CoRFiLaC has decided to direct. Among these, there is the project "Professional Women Opportunity", PWO, that will be presented during Cheese Art 2006, and whose strategic philosophy is to create a "place" of thought, know-how, cultural exchange, as well as a place of interaction for the technical and scientifi c aspects to be located at the CoRFiLaC facility. This place will allow women of developing countries to have a permanent center of reference supporting their growth and their needs.
Together with the main themes, Cheese Art 2006 will host a number of established events, orientated toward cultural recognition and promotion of traditional agricultural and food products. Therefore, there will be events that in the past editions had a big success such as: Parlamento del Gusto, Sapori in Grotta, Tasting Cheese, Historical Food Crafts, Cheese Bar, Live Cheese-making of Historical Sicilian Cheeses, Sicilian Ricotta, Cities of Cheese, Competitions for Cheese-maker and Affi neur, Exciting Beer and Jazz, Pizza-Cheese & Beer.
In addition, Cheese Art 2006 will off er to the visitors an extraordinary space, the court of the Castle of Donnafugata, dedicated to the Outdoor Market: a journey through the spices of the classical "Suk of Med", through the vegetables which grow in the torrents, the homemade preserves, the street traders of cheeses, salami and fi sh and, fi nally, the Street Food.
Th e cultural highlight of Cheese Art 2006 will consist in the celebration of events dedicated to the Sicilian author Gesualdo Bufalino, marking the 10th anniversary of his death.
Scientific Conferences
Women's Role in the Development of Emerging Countries
Communication and Development
High Technology Serving Rural Areas
Ethnic Rural Identities and Globalization
Cultural Marketing: a Global Opportunity
Professional Women Opportunity - PWO
World's Traditional Cheeses History
Technologies and Locations
Food Safety and Traditional Cheeses' Certification
Advanced Scientific Technologies to Study Tradition's Complex Processes
From the Land to the Table: Consumers in Search of the "Lost Taste"
Consumers' Expectations
Scientific Research Contribution
Contribution of the World of Production and Services
Communication Network Contribution
Relational Tourism: the Traveler
Seminars
Gesualdo Bufalino and (His) Sicily
The Youth's Diet of the Third Millennium Compared to That of the Farmers' Children of Sometime Ago: Obesity Risk
Farmer's Diet and Third Age
Exciting Beer: A Voyage Through the History and Culture of the Beer in the Mediterranean
Ricotta Cheese: A Poem of Its Own
Cities of Cheese.
Food Culture
"Parlamento del Gusto"
"I Sapori in Grotta"
Timeless Traditional Food & Lounge Bar
Tasting Cheese
Wine, Beer and Cheese Bar
Jazz, Pizza-Cheese & Beer
Market and Food Crafts
Outdoor Markets
Cities of Cheese
Historical Food Crafts
Live Cheese-making of Historical Sicilian Cheeses
Competition for "Cheese-maker" and "Affineur"
Other Cultural Events
Re-reading Gesualdo Bufalino
Food and Cinema
Photography and Painting Contest
Puppet Theater
"Wien – Wein," Shepherds' and Women's Songs
Dance Concert with Fingers
Buskers: Street Artists
The Main Topics of Enogastronomy
Sicilian Ricotta Cheese
Craft Beers
Mediterranean Traditional Cheeses
Photography Exhibitions
Besides the memories tied to the taste of Mediterranean products, CoRFiLaC wants to fix in the mind of the travelers imagines of people, places, customs, territories and countries that possess a wealth of traditions to be able to stimulate the
need of traveling towards those destinations.
During Cheese Art 2006 there will be a photography exhibition by Umberto Agnello on "Volti dei Casari/Images
of Cheese-makers;" one exhibition will be dedicated to emerging countries, among which India and Africa; and
another on the sunny Sicilian ountry-side.